MGM Grand Hotel and Casino
3799 Las Vegas Blvd S.
Las Vegas, Nevada 89109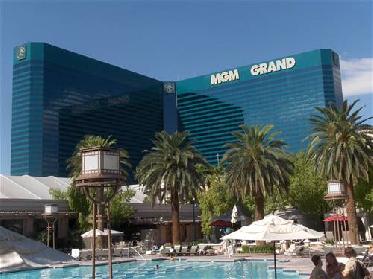 Entering the MGM Grand Hotel and Casino in Las Vegas, visitors have access to more than 14 restaurants, 5,009-rooms, great entertainment, a nightclub, a Lion Habitat and many more attractions.
When billionaire entrepreneur Kirk Kerkorian decided to build a new MGM Grand Hotel (the original has become Bally's Las Vegas), he set out to create something not only unique to Las Vegas, but to the world. Something worthy of the name of one of the most successful entertainment companies in modern history. The 5,009-room, $1 billion resort went from idea to reality in just three years, and today stands proudly over one of the most trafficked intersections in the world, directly across from the Tropicana and New York-New York hotels.
The MGM Grand commonly known as the "city of entertainment" incorporates so much, from dining to resort amenities to megashows to sports events that it approximates a big-budget film. Bright colors and spectacular facades front some of the best dining, shows and services to be found in Las Vegas.
Hungry? You have choices that range from the nouveau tastes of Wolfgang Puck to the acclaimed Coyote Cafe. Their showrooms and Grand Garden Arena have hosted everything from Bette Midler to heavyweight boxing to NBC's "Tonight Show." And famed discotheque Studio 54 parties on at MGM, with all the glitz and glamour of its namesake.
There's much, much more to see at the MGM Grand, including a world-class spa, luxurious pool and lion habitat. Like any big city, the MGM builds its strength from details and diversity. Visit often, and discover them all.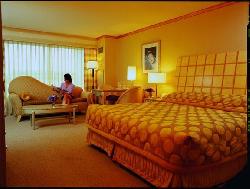 Overlooking the famous Las Vegas Strip, the MGM Grand features 5,034 elegant guest rooms all offering the finest in amenities and personal service. Most of the rooms at the MGM Grand fall into the Deluxe room category. Larger than the average Las Vegas room, the 446-square-foot deluxe rooms at the MGM Grand are decorated in classic motifs offering the finest in elegance and comfort. Each room is accessorized with a custom black-and-white marble bathroom, luxurious cotton towels and spacious closets, remote control television, hair dryer, safe and an alarm clock.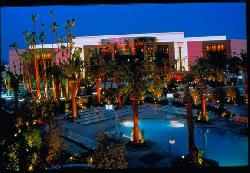 The Grand Pool complex is the most elegant swimming and sunbathing experience in the world. The area features five swimming pools, three large whirlpools, a relaxing river, lush tropical landscaping, bridges, fountains and waterfalls. The complex is open year round with a minimum of one pool and one whirlpool available 7 days a week. Based on demand additional pools will be opened.
MGM Grand showcases the most delightful restaurants featuring world-famous chefs and restaurateurs - Wolfgang Puck, Emeril Lagasse and Mark Miller. At MGM Grand, you will find signature restaurants ranging from elegant fine dining to fun, lively themes.
Meeting Facilities are available at the MGM Grand Hotel and Casino.
More Las Vegas Golf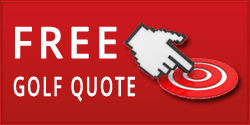 What's Inside!
»

Special Interest

»

More

»

Other Destinations