TPC Las Vegas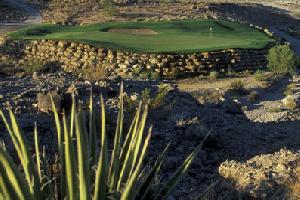 TPC Las Vegas is the only PGA Tour owned public facility in Las Vegas. TPC Las Vegas has been hosting professional golf events for the past decade
TPC Las Vegas offers you A PGA Tour Experience
TPC Las Vegas is a great chance for the average golfer to play a golf course the PGA pros play. In an attempt to make the experience as real as possible, TPC Las Vegas has a forecaddie program in place depending on the season. Each group has one caddie that will act as a guide around the golf course. They will let players know yardages, tend pins and help the players out in any way possible.
Playing TPC Las Vegas
TPC Las Vegas plays slightly over 7,000 yards and cuts a path through the rugged desert that surrounds the golf course. On many holes the player will be forced to carry a desert area in order to find the fairway. There is only one hole on the golf course that has water next to the green. The 18th hole is a very dramatic and demanding finishing hole.  
TPC Las Vegas is PGA Tour Conditions Open To the Public
TPC Las Vegas is usually in tournament condition. Many touring professionals who reside in Las Vegas like to practice at this facility. Touring professionals like to practice in conditions they experience week in and out on the tour, TPC Las Vegas provides this on a regular basis.
Visit our golf packages page for deals on Las Vegas golf.
Course Details
For more information or for current specials on TPC Las Vegas call us today at 1-800-841-6570 or CLICK HERE for a free golf vacation quote!
TPC Las Vegas

TPC Las Vegas

TPC Las Vegas

TPC Las Vegas

TPC Las Vegas

TPC Las Vegas

TPC Las Vegas

TPC Las Vegas

TPC Las Vegas
Scorecard (Holes 1 - 9)
| | | | | | | | | | | | | |
| --- | --- | --- | --- | --- | --- | --- | --- | --- | --- | --- | --- | --- |
| | Rating | Slope | 1 | 2 | 3 | 4 | 5 | 6 | 7 | 8 | 9 | In |
| Par | | | 4 | 3 | 4 | 5 | 4 | 5 | 3 | 4 | 4 | 36 |
| TPC | 73 | 131 | 359 | 196 | 466 | 544 | 378 | 604 | 209 | 458 | 349 | 3563 |
| Blue | 70 | 128 | 349 | 184 | 452 | 518 | 363 | 590 | 195 | 433 | 337 | 3421 |
| White | 67 | 118 | 315 | 151 | 364 | 471 | 353 | 551 | 169 | 376 | 308 | 3058 |
Scorecard (Holes 10 - 18)
| | | | | | | | | | | | | |
| --- | --- | --- | --- | --- | --- | --- | --- | --- | --- | --- | --- | --- |
| | Rating | Slope | 10 | 11 | 12 | 13 | 14 | 15 | 16 | 17 | 18 | Out |
| Par | | | 4 | 4 | 3 | 4 | 4 | 5 | 3 | 4 | 4 | 35 |
| TPC | 73 | 131 | 419 | 444 | 145 | 423 | 365 | 612 | 202 | 443 | 447 | 3500 |
| Blue | 70 | 128 | 406 | 428 | 134 | 381 | 356 | 598 | 185 | 424 | 439 | 3351 |
| White | 67 | 118 | 367 | 362 | 118 | 364 | 339 | 531 | 160 | 390 | 421 | 3052 |