Monte Carlo Hotel and Casino
3770 Las Vegas Blvd S.
Las Vegas, Nevada 89109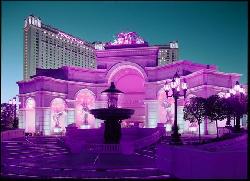 The Monte Carlo Las Vegas is a solid fusion of European refinement, American dazzle and true Las Vegas hospitality. From the moment one catches sight of the remarkable entrance, with its Renaissance statues and cascading fountains, the Monte Carlo evokes an elegance unique not only to Las Vegas, but to the world.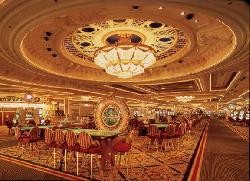 The amenities at the Monte Carlo Las Vegas reflect both sides of the Atlantic. The 90,000-square-foot casino offers a broad range of gaming, from roulette to high-stakes baccarat. Dining runs the gamut from the exotic Asian pleasures of the Dragon Noodle Co. to the fine dining of Blackstone's Steak House -- and the rollicking Monte Carlo Pub & Brewery has six fresh brews to gratify the palate. Rooms are tastefully accented with brass fixtures, Italian marble and polished granite. Six different pools, including a wave pool, cool down visitors in a lush garden setting. And in a notable coup, World Champion Magician Lance Burton will be rocking his namesake showroom with his spectacular illusions until the year 2009.
It comes as no surprise that former Mirage Resorts CEO Steve Wynn described the Monte Carlo Las Vegas as "popular elegance," coining a phrase to sum up the Monte Carlo's effortless blend of sensibilities. With a resort this fresh and exciting, one can expect all varieties of invention and be satisfied.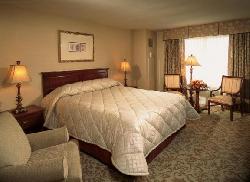 Luxuriate in one of 3,002 deluxe rooms. These oversized guest rooms feature Italian marble and granite finishes as well as brass fixtures. Tasteful cherry furniture and turn-of-the-century decor surround you in elegance. 24 hour room service is available for all guests.
Designed to refresh hotel guests, the 21,000 square-foot pool area at the Monte Carlo features 11,000 square-feet of cascading waterfalls, lush landscaping and crystal clear swimming pools. The list of swimming pools include: The Lagoon Pool, Kiddie Pool, Spa, Wave Pool and the Easy River Ride.
Meeting Facilities are available at the Monte Carlo Hotel and Casino.