Hard Rock Hotel and Casino
4455 Paradise Rd
Las Vegas, Nevada 89109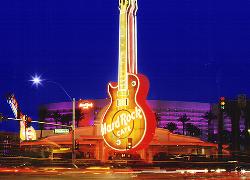 The Hard Rock Hotel and Casino is a Rock & Roll themed resort in Las Vegas. The Hard Rock features 657 rooms and suites. Six (6) restaurants, an underground night club, full service spa and athletic club, three (3) acre beach club with two (2) lagoon pools and sandy beaches. Hotel also includes a 1800 seat concert venue and separate ballroom/convention and conference center.
Hard Rock Hotel and Casino features:
668 rooms.
30,000 square feet of casino space.

60,000 square feet of convention space.
A full-sized swimming pool.
An in-house health club / workout area.
Handicapped or wheelchair access.
Complete room service.
Shuttle service to McCarran Airport and other Hotels in Las Vegas

There is 1 type of room available at Hard Rock Hotel and Casino:
Standard Room Spacious guest rooms with French doors to outside. Full service concierge. One hundred and ninety three kings, three hundred and eighty three queens and twenty handicapped rooms.
True to its mission, the Hard Rock Las Vegas' concert venue, The Joint, is one of the best places in the country to experience live music. The 1,800 seat concert-hall has already featured some of the biggest names in rock, including The Rolling Stones, Lenny Kravitz, The Eagles, Bob Dylan, Sheryl Crow and Tom Petty to name just a few. The atmosphere is more of an intimate club than a concert hall. The newly added nightclub, Baby's, features the top deejays from around the world, and its driving beats and dance-floor keep on pumping until the desert sun rises
Meeting Facilities are available at the Hard Rock Hotel and Casino.