Rio Secco Golf Club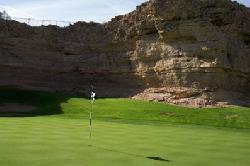 The Rio Secco Golf Club designed by Rees Jones situates itself surrounded by the upscale community of 7 Hills in Henderson, Nevada.
Rolling across 240 acres of rugged desert and seated over 800 feet above Las Vegas the Rio Secco offers panoramic views of the Las Vegas Valley and the surrounding desert and mountains. Players are challenged as the golf course winds it's way through the steep canyons and arroyos and tops out on high plateaus.
The Butch Harmon School of Golf is located at the Rio Secco Golf Club and offers one to three-day golf schools with Butch and his staff as well as individual private instruction. Harmon's star pupil, Tiger Woods currently holds the Rio Secco golf course record of 64.
The Rio Secco Golf Club can play to over 7,400 yards and can be very difficult, but also offers four teeing grounds to allow golfers of any skill level a memorable golf experience. Rio Secco Golf Club features 6 holes through steep canyons, 6 holes on a plateau overlooking the city and 6 holes in a broad desert wash. Rio Secco lays at the foothills of the Black Mountain Range about 15 minutes southeast of the Las Vegas Strip.
Visit our golf packages page for deals on Las Vegas golf.
Course Details
For more information or for current specials on Rio Secco Golf Club call us today at 1-800-841-6570 or CLICK HERE for a free golf vacation quote!
Scorecard (Holes 1 - 9)
| | | | | | | | | | | | | |
| --- | --- | --- | --- | --- | --- | --- | --- | --- | --- | --- | --- | --- |
| | Rating | Slope | 1 | 2 | 3 | 4 | 5 | 6 | 7 | 8 | 9 | In |
| Par | | | 4 | 4 | 3 | 4 | 5 | 4 | 3 | 5 | 4 | 36 |
| Black | 75 | 153 | 429 | 489 | 180 | 396 | 595 | 409 | 208 | 566 | 472 | 3744 |
| Blue | 73 | 149 | 406 | 460 | 166 | 381 | 577 | 395 | 199 | 559 | 450 | 3593 |
| White | 70.7 | 136 | 379 | 436 | 139 | 351 | 547 | 355 | 166 | 536 | 408 | 3317 |
| Red | 70 | 127 | 351 | 407 | 110 | 331 | 476 | 332 | 147 | 489 | 373 | 3016 |
Scorecard (Holes 10 - 18)
| | | | | | | | | | | | | |
| --- | --- | --- | --- | --- | --- | --- | --- | --- | --- | --- | --- | --- |
| | Rating | Slope | 10 | 11 | 12 | 13 | 14 | 15 | 16 | 17 | 18 | Out |
| Par | | | 4 | 4 | 3 | 4 | 4 | 3 | 4 | 5 | 5 | 36 |
| Black | 75 | 153 | 378 | 478 | 215 | 329 | 432 | 189 | 398 | 516 | 634 | 3569 |
| Blue | 73 | 149 | 354 | 435 | 188 | 313 | 413 | 168 | 377 | 485 | 601 | 3334 |
| White | 70.7 | 136 | 324 | 417 | 164 | 247 | 365 | 147 | 339 | 460 | 576 | 3039 |
| Red | 70 | 127 | 298 | 366 | 147 | 220 | 335 | 134 | 276 | 446 | 521 | 2743 |