Rhodes Ranch Golf Club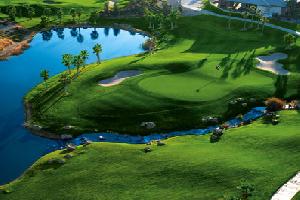 Golf Course designer Ted Robinson once made a comment that the best group of par threes he's ever done was at Rhodes Ranch Golf Club in Las Vegas. Certainly, Rhodes Ranch is known for its series of difficult par three holes. The General Manager at the course, Tom Vold, says concerning the par threes, "I'd put our par threes up against anybody at any facility. There are great par fours, but you can birdie them. There are great par fives, but you can birdie them. But if you can get par or better on any of our par threes, you've really done your business out here. It doesn't matter what level of player you are - if you walk off the course having played the par threes well, you know you've played the golf course."
The signature hole at Rhodes Ranch Golf Club is the par three number three. While aesthetically beautiful with a waterfall that runs into a lake on the right, it is very challenging and intimidating off the tee. Number 16 and 14 are also extremely challenging, but if you play the proper tee, you will have success. Hole eighteen, the par four finishing hole, requires a very good second shot. "That's what golf should be. The designer should give you an opportunity to miss it a little bit off your tee shot, so you still have an opportunity, but if you're not dead-on with your second shot, you should be penalized a little bit. And nowhere is that more evident than on number eighteen," Vold says.
During the summer of 2006, Rhodes Ranch Golf Club resurfaced all the greens with Tiff Dwarf Bermuda. This premium surface will aid the golf course in several ways, according to Vold . "It will solidify having a very, very good putting surface for eight to ten years. It is a much more drought-tolerant grass which makes us more civic minded, and it will withstand any treatments to rid it of weeds and disease. It's just a much better grass for this type of environment." In addition to the greens, renovations to bunkers and cart paths have been made.
Visit our golf packages page for deals on Las Vegas golf.
Course Details
For more information or for current specials on Rhodes Ranch Golf Club call us today at 1-800-841-6570 or CLICK HERE for a free golf vacation quote!
Scorecard (Holes 1 - 9)
| | | | | | | | | | | | | |
| --- | --- | --- | --- | --- | --- | --- | --- | --- | --- | --- | --- | --- |
| | Rating | Slope | 1 | 2 | 3 | 4 | 5 | 6 | 7 | 8 | 9 | In |
| Par | | | 4 | 4 | 3 | 4 | 5 | 4 | 3 | 4 | 5 | 36 |
| Black | 73 | 122 | 379 | 431 | 227 | 356 | 515 | 435 | 202 | 326 | 571 | 3442 |
| Blue | 71 | 120 | 356 | 400 | 189 | 332 | 491 | 407 | 176 | 308 | 532 | 3191 |
| White | 67 | 117 | 342 | 375 | 167 | 315 | 475 | 375 | 158 | 296 | 496 | 2999 |
| Gold | 64 | 110 | 296 | 319 | 107 | 284 | 440 | 314 | 132 | 273 | 446 | 2611 |
Scorecard (Holes 10 - 18)
| | | | | | | | | | | | | |
| --- | --- | --- | --- | --- | --- | --- | --- | --- | --- | --- | --- | --- |
| | Rating | Slope | 10 | 11 | 12 | 13 | 14 | 15 | 16 | 17 | 18 | Out |
| Par | | | 4 | 4 | 5 | 4 | 3 | 5 | 3 | 4 | 4 | 36 |
| Black | 73 | 122 | 404 | 321 | 568 | 388 | 191 | 510 | 212 | 432 | 441 | 3467 |
| Blue | 71 | 120 | 381 | 297 | 534 | 364 | 167 | 486 | 180 | 399 | 406 | 3214 |
| White | 67 | 117 | 364 | 287 | 510 | 347 | 145 | 468 | 155 | 358 | 376 | 3010 |
| Gold | 64 | 110 | 303 | 257 | 457 | 309 | 117 | 434 | 119 | 315 | 316 | 2627 |