Revere Golf Club Lexington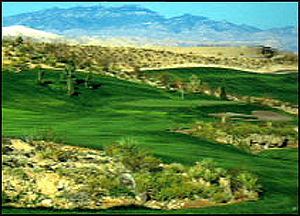 The Lexington Course is the premier golf course at the Revere Golf Club at Anthem. Currently managed by Troon Golf, the Lexington has matured for several years and has views of the Las Vegas Strip on about 14 of the 18 holes. All the tee boxes are elevated rock-bed tee boxes. The entire Lexington golf course is overseeded in the Fall and remains green year -round. Dennis Piekarski, Director of Sales and Marketing at Revere Golf Club, says of the golf course that "every hole is different. There's not one monotonous hole about the golf course."
The signature hole at the Revere Golf Club's Lexington Course is the Par-5 number seven. It plays 490 yards uphill and the desert cuts in a little. The really spectacular thing about this hole is the 150 foot waterfall that comes down behind it. It doesn't really come into play, except to serve as a distraction, but the little pond behind the green has caught many a stray ball, so be careful. Another great hole is number 16 - also with a waterfall. It's another par five and is next to the road which designates it as a cart path only hole. With a little dry creek bed in front of the green, this hole is another scenic challenge.
Visit our golf packages page for deals on Las Vegas golf.
Course Details
For more information or for current specials on Revere Golf Club Lexington call us today at 1-800-841-6570 or CLICK HERE for a free golf vacation quote!
Revere Golf Club

Revere Golf Club

Revere Golf Club

Revere Golf Club

Revere Golf Club

Revere Golf Club
Scorecard (Holes 1 - 9)
| | | | | | | | | | | | | |
| --- | --- | --- | --- | --- | --- | --- | --- | --- | --- | --- | --- | --- |
| | Rating | Slope | 1 | 2 | 3 | 4 | 5 | 6 | 7 | 8 | 9 | In |
| Par | | | 4 | 5 | 4 | 3 | 4 | 4 | 5 | 3 | 4 | 36 |
| Black | 73 | 139 | 390 | 591 | 442 | 182 | 400 | 384 | 489 | 223 | 444 | 3545 |
| Gold | 70 | 131 | 371 | 561 | 416 | 161 | 377 | 349 | 459 | 181 | 400 | 3275 |
| Silver | 68 | 123 | 333 | 511 | 378 | 130 | 332 | 320 | 432 | 154 | 363 | 2953 |
| Bronze | 69 | 116 | 310 | 474 | 338 | 114 | 305 | 291 | 392 | 116 | 318 | 2658 |
Scorecard (Holes 10 - 18)
| | | | | | | | | | | | | |
| --- | --- | --- | --- | --- | --- | --- | --- | --- | --- | --- | --- | --- |
| | Rating | Slope | 10 | 11 | 12 | 13 | 14 | 15 | 16 | 17 | 18 | Out |
| Par | | | 4 | 5 | 4 | 3 | 4 | 4 | 5 | 3 | 4 | 36 |
| Black | 73 | 139 | 379 | 625 | 422 | 238 | 442 | 361 | 534 | 166 | 431 | 3598 |
| Gold | 70 | 131 | 358 | 580 | 398 | 203 | 385 | 342 | 511 | 139 | 399 | 3315 |
| Silver | 68 | 123 | 312 | 528 | 384 | 169 | 361 | 308 | 453 | 122 | 351 | 2988 |
| Bronze | 69 | 116 | 291 | 465 | 320 | 124 | 320 | 289 | 405 | 108 | 325 | 2647 |