Primm Valley Desert Golf Course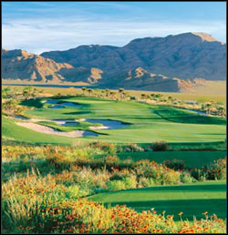 Primm Valley Golf Club has quickly become one of the premier golf experiences in the Southwest. The golf club features two spectacular golf courses designed by Tom Fazio - the Lakes and the Desert courses. Both golf courses are well worth the 45 minute drive from the Las Vegas Strip, and it's all set in a beautiful and unique environment, as only the desert can provide.
For pure golf and desert beauty, the Desert Golf Course at Primm Valley is second to none. The newer of the two, the Desert course opened in May 1998. This track features desert landscaping, providing a stark contrast to the almost tropical Lakes course. Somewhat more demanding of the player's ability, it measures 7,131 yards with a par of 72. The golf course is accented with palm and mesquite trees, colorful cactus and desert wildflowers to give it a true desert feeling. Where water was used on the Lakes Course, vast stretches of waste bunkers border the fairways on seven holes of the Desert Course. Water does come into play on five holes and narrow fairways with elevation changes and well-bunkered large greens will test even the best players.
Visit our golf packages page for deals on Las Vegas golf.
Course Details
For more information or for current specials on Primm Valley Desert Golf Course call us today at 1-800-841-6570 or CLICK HERE for a free golf vacation quote!
Scorecard (Holes 1 - 9)
| | | | | | | | | | | | | |
| --- | --- | --- | --- | --- | --- | --- | --- | --- | --- | --- | --- | --- |
| | Rating | Slope | 1 | 2 | 3 | 4 | 5 | 6 | 7 | 8 | 9 | In |
| Par | | | 4 | 4 | 4 | 3 | 4 | 4 | 5 | 5 | 3 | 36 |
| Black | 74.2 | 135 | 433 | 435 | 352 | 188 | 372 | 389 | 530 | 565 | 222 | 3486 |
| Blue | 71.1 | 128 | 407 | 414 | 324 | 160 | 345 | 336 | 506 | 545 | 181 | 3218 |
| White | 68.8 | 124 | 372 | 385 | 313 | 150 | 330 | 314 | 487 | 506 | 158 | 3015 |
| Green | 71.6 | 129 | 340 | 321 | 272 | 129 | 306 | 294 | 409 | 422 | 127 | 2620 |
Scorecard (Holes 10 - 18)
| | | | | | | | | | | | | |
| --- | --- | --- | --- | --- | --- | --- | --- | --- | --- | --- | --- | --- |
| | Rating | Slope | 10 | 11 | 12 | 13 | 14 | 15 | 16 | 17 | 18 | Out |
| Par | | | 4 | 3 | 4 | 5 | 4 | 3 | 4 | 4 | 5 | 36 |
| Black | 74.2 | 135 | 473 | 216 | 455 | 575 | 397 | 196 | 431 | 385 | 517 | 3645 |
| Blue | 71.1 | 128 | 432 | 185 | 409 | 520 | 368 | 170 | 406 | 340 | 492 | 3322 |
| White | 68.8 | 124 | 395 | 161 | 383 | 492 | 329 | 150 | 377 | 320 | 463 | 3070 |
| Green | 71.6 | 129 | 363 | 143 | 353 | 463 | 291 | 128 | 336 | 284 | 416 | 2777 |