Paiute Resort - Sun Mountain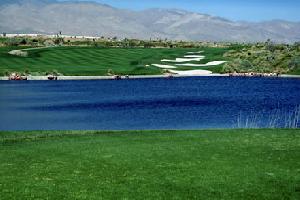 The Sun Mountain course was the second course to be built at the Paiute Golf Resort. The golf course is located farthest from the main resort area which gives it an isolated feel. As you make your way around Paiute's Sun Mountain, you'll be struck by the sparse landscape and the mountains that loom in the distance. Typical of most Pete Dye golf courses, Sun Mountain has wide fairways and large greens.
Like it's sister courses, the Paiute Golf Resort's Sun Mountain Course is usually in excellent condition, the fairways tend to be very fast and give the player an abundance of roll. The greens are fast and smooth.
When you finish your round, stop by the clubhouse for drink or bite to eat. The Paiute Golf Resort offers one of the most impressive clubhouses in Las Vegas. If you're looking for a great game, away from the fast city life of Las Vegas, we highly recommend the golf courses at the Paiute Golf Resort.
Visit our golf packages page for deals on Las Vegas golf.
Course Details
For more information or for current specials on Paiute Resort - Sun Mountain call us today at 1-800-841-6570 or CLICK HERE for a free golf vacation quote!
Paiute Golf Resort

Paiute Golf Resort

Paiute Golf Resort

Paiute Golf Resort

Paiute Golf Resort

Paiute Golf Resort

Paiute Golf Resort

Paiute Golf Resort

Paiute Golf Resort
Scorecard (Holes 1 - 9)
| | | | | | | | | | | | | |
| --- | --- | --- | --- | --- | --- | --- | --- | --- | --- | --- | --- | --- |
| | Rating | Slope | 1 | 2 | 3 | 4 | 5 | 6 | 7 | 8 | 9 | In |
| Par | | | 4 | 4 | 5 | 3 | 4 | 4 | 5 | 3 | 4 | 36 |
| Tournament | 73 | 130 | 454 | 379 | 558 | 206 | 389 | 436 | 530 | 204 | 449 | 3605 |
| Championship | 70 | 124 | 418 | 356 | 537 | 184 | 366 | 409 | 501 | 170 | 416 | 3357 |
| Regular | 68 | 116 | 399 | 310 | 504 | 138 | 358 | 370 | 466 | 140 | 385 | 3070 |
| Forward | 71 | 123 | 382 | 289 | 458 | 123 | 315 | 348 | 392 | 118 | 346 | 2771 |
Scorecard (Holes 10 - 18)
| | | | | | | | | | | | | |
| --- | --- | --- | --- | --- | --- | --- | --- | --- | --- | --- | --- | --- |
| | Rating | Slope | 10 | 11 | 12 | 13 | 14 | 15 | 16 | 17 | 18 | Out |
| Par | | | 4 | 5 | 4 | 4 | 3 | 4 | 5 | 3 | 4 | 36 |
| Tournament | 73 | 130 | 358 | 545 | 465 | 426 | 219 | 365 | 527 | 198 | 404 | 3507 |
| Championship | 70 | 124 | 332 | 530 | 431 | 410 | 189 | 338 | 500 | 157 | 387 | 3274 |
| Regular | 68 | 116 | 308 | 479 | 401 | 381 | 168 | 309 | 459 | 137 | 362 | 3004 |
| Forward | 71 | 123 | 277 | 442 | 369 | 345 | 144 | 274 | 400 | 110 | 333 | 2694 |