Dragon Ridge Country Club
Dragon Ridge Country Club has decided to reopen its doors allowing limited non-member play. Small and large golf groups may be accommodated on specific days, please call our office at 1-877-841-6570 for more information Rates start at $250.00 per golfer.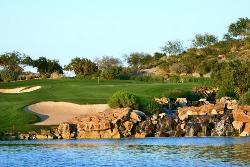 If you have enjoyed the Dragon Ridge Golf Club, you might also enjoy the Rio Secco Golf Club and the Reflection Bay Golf Club.
Dragon Ridge Country Club, designed by golf course architects Jay Morrish and David Druzisky, offers a championship 18-hole, par 72 design. Dragon Ridge Country Club boasts a tradtional Scottish heritage and sits within the MacDonald Highlands. The course starts at the bottom of the rugged highlands and rolls deep into the McCullough mountain range. The dramatic tree lines, wondrous carries, rolling fairways, and breaking greens of Dragon Ridge Country Club offers any golfer a variety of shot options and play choices. Dragon Ridge Country Club can be one of the most challenging golf courses in Las Vegas if played from the back tees, but offers one of the city's most beautiful sceneries. It also offers wide fairways which allow golfers to make playable shots of the tee. If you play the correct tee, you will be rewarded with a great round of golf.
Visit our golf packages page for deals on Las Vegas golf.
Course Details
For more information or for current specials on Dragon Ridge Country Club call us today at 1-800-841-6570 or CLICK HERE for a free golf vacation quote!
Scorecard (Holes 1 - 9)
| | | | | | | | | | | | | |
| --- | --- | --- | --- | --- | --- | --- | --- | --- | --- | --- | --- | --- |
| | Rating | Slope | 1 | 2 | 3 | 4 | 5 | 6 | 7 | 8 | 9 | In |
| Par | | | 4 | 3 | 4 | 5 | 3 | 4 | 4 | 5 | 4 | 36 |
| Dragon | 72 | 143 | 411 | 229 | 398 | 523 | 185 | 359 | 441 | 563 | 444 | 3553 |
| Cobalt | 70 | 131 | 385 | 202 | 377 | 494 | 165 | 345 | 420 | 535 | 393 | 3316 |
| Silver | 67 | 122 | 344 | 174 | 349 | 460 | 147 | 315 | 397 | 515 | 361 | 3062 |
| Ruby | 68 | 118 | 307 | 465 | 135 | 451 | 345 | 361 | 280 | 118 | 284 | 2746 |
Scorecard (Holes 10 - 18)
| | | | | | | | | | | | | |
| --- | --- | --- | --- | --- | --- | --- | --- | --- | --- | --- | --- | --- |
| | Rating | Slope | 10 | 11 | 12 | 13 | 14 | 15 | 16 | 17 | 18 | Out |
| Par | | | 4 | 4 | 5 | 4 | 3 | 4 | 4 | 3 | 5 | 36 |
| Dragon | 72 | 143 | 368 | 440 | 562 | 375 | 202 | 418 | 320 | 194 | 607 | 3486 |
| Cobalt | 70 | 131 | 343 | 395 | 514 | 348 | 165 | 372 | 302 | 173 | 553 | 3165 |
| Silver | 67 | 122 | 310 | 353 | 480 | 328 | 135 | 325 | 260 | 132 | 503 | 2826 |
| Ruby | 68 | 118 | 321 | 405 | 128 | 432 | 323 | 122 | 312 | 355 | 374 | 2772 |