Coyote Springs Golf Club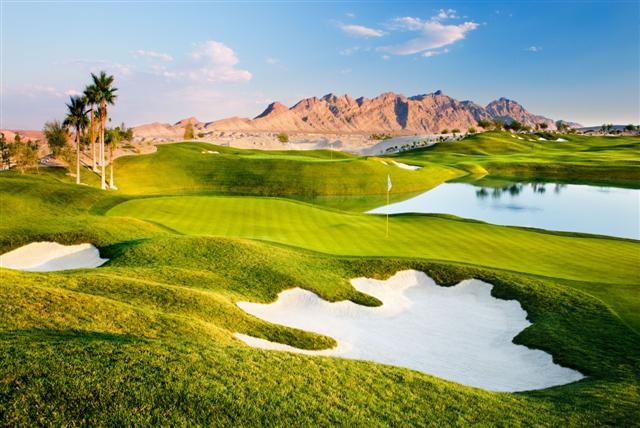 Coyote Springs is a new town being developed 40 miles north of Las Vegas. Golf will be the heartbeat of this new town, and what better way to prove that than by opening a Jack Nicklaus signature course, The Chase, later this month of April 2008. This PGA Golf Club is part of the larger PGA Village at Coyote Springs in which The Chase is just the tip of the iceberg. The second course that has yet to be named will be a collaboration between Pete Dye and Jack Nicklaus. There will be as many as a dozen more to come!
The Chase is another extraordinary golf course designed by Jack Nicklaus. We had a chance to put it to the test this past weekend and it's awesome! The 50-minute drive is well worth the trip and will open your eyes to a whole new world (or town, anyway). The greens are pure and undulated which allows for many pin placements - some of which are downright tough. The fairways are just that, fair. They offer plenty of room visually off the tee and have many small mounds to give some unique lies. The fairways are well bunkered so there is no doubt as to where you should hit. It seems as though Jack wants to test your iron game with this course and then make sure your short game is finely-tuned. Overall, it is what you would expect from Jack Nicklaus - an A+ golf experience.
Coyote Springs will feature a variety of residential options ranging from lavish custom homes to multifamily housing, plus retail shopping, commercial buildings, parks, hiking trails, schools and a full community infrastructure. It will be a full and complete lifestyle that will rival any master-planned community in America. This is quite a tall order with two of the nation's top master-planned communities right in it's backyard - the award-winning Summerlin developed by The Howard Hughes Corporation, and Green Valley developed by American Nevada Corporation.
Be one of the first to play The Chase starting April 25th, 2008. There will be a soft opening that will allow play through the rest of the year before continued development on The PGA Village. Many that have been privileged to play The Chase agree that this course may be one of Nicklaus' finest desert creations.
Visit our golf packages page for deals on Las Vegas golf.
Course Details
For more information or for current specials on Coyote Springs Golf Club call us today at 1-800-841-6570 or CLICK HERE for a free golf vacation quote!
Scorecard (Holes 1 - 9)
| | | | | | | | | | | | | |
| --- | --- | --- | --- | --- | --- | --- | --- | --- | --- | --- | --- | --- |
| | Rating | Slope | 1 | 2 | 3 | 4 | 5 | 6 | 7 | 8 | 9 | In |
| Par | | | 4 | 5 | 3 | 4 | 5 | 4 | 4 | 3 | 4 | 36 |
| Black | 75.8 | 141 | 417 | 575 | 228 | 444 | 585 | 393 | 481 | 233 | 739 | 4095 |
| Blue | 72 | 137 | 374 | 518 | 185 | 420 | 539 | 368 | 418 | 219 | 410 | 3451 |
| White | 69.3 | 132 | 343 | 483 | 163 | 359 | 516 | 343 | 394 | 196 | 346 | 3143 |
| Red | 70.5 | 127 | 277 | 448 | 127 | 298 | 429 | 276 | 306 | 163 | 281 | 2605 |
Scorecard (Holes 10 - 18)
| | | | | | | | | | | | | |
| --- | --- | --- | --- | --- | --- | --- | --- | --- | --- | --- | --- | --- |
| | Rating | Slope | 10 | 11 | 12 | 13 | 14 | 15 | 16 | 17 | 18 | Out |
| Par | | | 4 | 5 | 3 | 4 | 4 | 4 | 5 | 3 | 4 | 36 |
| Black | 75.8 | 141 | 438 | 564 | 185 | 424 | 450 | 375 | 607 | 170 | 463 | 3676 |
| Blue | 72 | 137 | 383 | 542 | 164 | 401 | 413 | 345 | 578 | 155 | 375 | 3356 |
| White | 69.3 | 132 | 358 | 517 | 122 | 378 | 387 | 325 | 525 | 140 | 320 | 3072 |
| Red | 70.5 | 127 | 300 | 485 | 107 | 325 | 352 | 276 | 503 | 100 | 235 | 2683 |