Boulder Creek Golf Club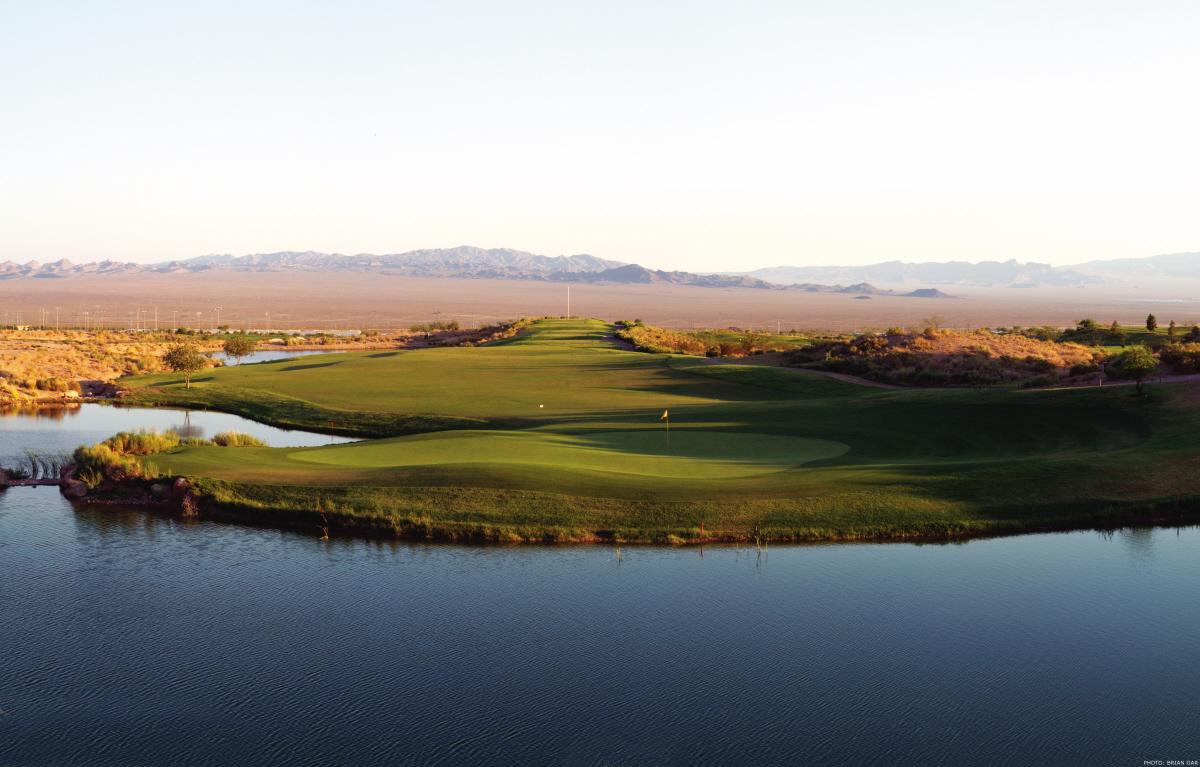 Boulder Creek Golf Club is a great golf facility made up of three links-style golf courses in a desert surrounding. The Desert Hawk, Coyote Run and Eldorado Valley are the three nine-hole courses that make up the Boulder Creek Golf Club.
The Boulder Creek Golf Experience
Each golf course at Boulder Creek Golf Club has a unique theme which makes it hard to find holes that are similar on all three. Boulder Creek Golf Club is also one of the homes of the First Tee of Southern Nevada and has one of the largest practice facilities in the area.
The property includes several places to hit practice balls, chip, hit bunker shots and practice putting as well.
The staff at Boulder Creek Golf Club pride themselves on the condition of their golf course. The greens, fairway and tees are typically some of the best in the Las Vegas Valley. During the winter months, the golf course lets the Bermuda roughs go dormant which further frames the green fairways with yellow grass in the rough and around bunkers. This is one of the great aspects of desert golf in the winter.
Visit our golf packages page for deals on Las Vegas golf.
Course Details
For more information or for current specials on Boulder Creek Golf Club call us today at 1-800-841-6570 or CLICK HERE for a free golf vacation quote!
Scorecard (Holes 1 - 9)
| | | | | | | | | | | | | |
| --- | --- | --- | --- | --- | --- | --- | --- | --- | --- | --- | --- | --- |
| | Rating | Slope | 1 | 2 | 3 | 4 | 5 | 6 | 7 | 8 | 9 | In |
| Par | | | 4 | 5 | 4 | 3 | 5 | 4 | 4 | 3 | 4 | 36 |
| Black | 75.8 | 142 | 437 | 582 | 409 | 250 | 533 | 440 | 487 | 225 | 480 | 3843 |
| Gold | 73.2 | 130 | 415 | 541 | 375 | 217 | 508 | 404 | 449 | 189 | 448 | 3546 |
| Blue | 70.4 | 120 | 378 | 508 | 353 | 192 | 478 | 375 | 407 | 165 | 421 | 3277 |
| White | 68 | 117 | 341 | 475 | 338 | 169 | 443 | 340 | 377 | 147 | 393 | 3023 |
Scorecard (Holes 10 - 18)
| | | | | | | | | | | | | |
| --- | --- | --- | --- | --- | --- | --- | --- | --- | --- | --- | --- | --- |
| | Rating | Slope | 10 | 11 | 12 | 13 | 14 | 15 | 16 | 17 | 18 | Out |
| Par | | | 4 | 4 | 3 | 5 | 4 | 4 | 5 | 3 | 4 | 36 |
| Black | 75.8 | 142 | 419 | 443 | 204 | 579 | 455 | 402 | 635 | 179 | 469 | 3785 |
| Gold | 73.2 | 130 | 399 | 406 | 181 | 551 | 418 | 378 | 608 | 156 | 434 | 3531 |
| Blue | 70.4 | 120 | 358 | 380 | 164 | 531 | 354 | 350 | 577 | 142 | 404 | 3260 |
| White | 68 | 117 | 335 | 352 | 145 | 502 | 352 | 325 | 540 | 123 | 375 | 3049 |
Scorecard (Holes 19 - 27)
| | | | | | | | | | | | | |
| --- | --- | --- | --- | --- | --- | --- | --- | --- | --- | --- | --- | --- |
| | Rating | Slope | 19 | 20 | 21 | 22 | 23 | 24 | 25 | 26 | 27 | In |
| Par | | | 5 | 3 | 4 | 4 | 4 | 4 | 4 | 3 | 5 | 36 |
| Black | 75.8 | 142 | 595 | 168 | 434 | 409 | 482 | 441 | 442 | 191 | 577 | 3739 |
| Gold | 73.2 | 130 | 567 | 153 | 404 | 386 | 452 | 406 | 404 | 159 | 550 | 3481 |
| Blue | 70.4 | 120 | 540 | 142 | 379 | 365 | 429 | 376 | 375 | 134 | 523 | 3263 |
| White | 68 | 117 | 527 | 126 | 349 | 347 | 398 | 349 | 349 | 110 | 498 | 3053 |