Badlands Golf Club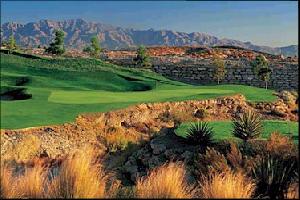 Badlands Golf Club is currently ranked as one of the top golf courses to play in Las Vegas. There are three distinct nine-hole courses the Desparado and Diablo designed by Johnny Miller and the Outlaw designed by Chi Chi Rodriguez. For the golfer who enjoys a challenge on a desert target golf course, we definitely recommend the Badlands.
Badlands Golf Club Accolades
Voted in 1997 as the Best Golf Course in Las Vegas by the Review Journal Readers Poll, and ranked among the 1997 Top Ten Best Golf Courses in Las Vegas, Nevada by Golf Digest, Badlands Golf Club is a definite addition to your golf package.
Air-Conditioned Golf Carts at Badlands
Badlands Golf Club now offers air-conditioned golf carts, for those looking for great golf courses to play while visiting Las Vegas. Golfers will find a full-service clubhouse with restaurant, bar and a full-line pro shop as well.
Visit our golf packages page for deals on Las Vegas golf.
Course Details
Green Fees:

$119 - $119 » Save with our golf only packages

Architect:

Johnny Miller

Layout

Desert / Canyon

We Rate It:

4 Stars

Overseed:

Diablo: August 27 - September 10, 2012, Outlaw: September 10 - September 24, 2012, Desperado: September 24 - October 8, 2012 » 2013 Overseeding Schedule

Aerification:

May 20-22 - All Three Nines are Closed for Aerification
For more information or for current specials on Badlands Golf Club call us today at 1-800-841-6570 or CLICK HERE for a free golf vacation quote!
Scorecard (Holes 1 - 9)
| | | | | | | | | | | | | |
| --- | --- | --- | --- | --- | --- | --- | --- | --- | --- | --- | --- | --- |
| | Rating | Slope | 1 | 2 | 3 | 4 | 5 | 6 | 7 | 8 | 9 | In |
| Par | | | 4 | 5 | 4 | 4 | 3 | 4 | 4 | 3 | 5 | 36 |
| Black | 73 | 133 | 346 | 523 | 354 | 461 | 205 | 400 | 337 | 196 | 541 | 3363 |
| Blue | 70 | 122 | 316 | 489 | 337 | 432 | 188 | 385 | 300 | 169 | 521 | 3137 |
| White | 67 | 113 | 305 | 466 | 320 | 387 | 161 | 358 | 273 | 125 | 503 | 2898 |
Scorecard (Holes 10 - 18)
| | | | | | | | | | | | | |
| --- | --- | --- | --- | --- | --- | --- | --- | --- | --- | --- | --- | --- |
| | Rating | Slope | 10 | 11 | 12 | 13 | 14 | 15 | 16 | 17 | 18 | Out |
| Par | | | 4 | 5 | 4 | 4 | 3 | 4 | 3 | 5 | 4 | 36 |
| Black | 73 | 133 | 322 | 514 | 487 | 410 | 228 | 289 | 189 | 551 | 473 | 3463 |
| Blue | 70 | 122 | 301 | 482 | 441 | 371 | 202 | 374 | 161 | 519 | 442 | 3293 |
| White | 67 | 113 | 282 | 432 | 394 | 347 | 171 | 361 | 135 | 464 | 393 | 2979 |
Scorecard (Holes 19 - 27)
| | | | | | | | | | | | | |
| --- | --- | --- | --- | --- | --- | --- | --- | --- | --- | --- | --- | --- |
| | Rating | Slope | 19 | 20 | 21 | 22 | 23 | 24 | 25 | 26 | 27 | In |
| Par | | | 4 | 3 | 4 | 4 | 4 | 5 | 4 | 3 | 5 | 36 |
| Black | 73 | 133 | 396 | 153 | 341 | 400 | 290 | 525 | 399 | 222 | 511 | 3237 |
| Blue | 70 | 122 | 363 | 128 | 325 | 383 | 268 | 499 | 381 | 207 | 484 | 3038 |
| White | 67 | 113 | 312 | 110 | 300 | 365 | 252 | 472 | 357 | 166 | 460 | 2794 |