Arroyo at Red Rock Country Club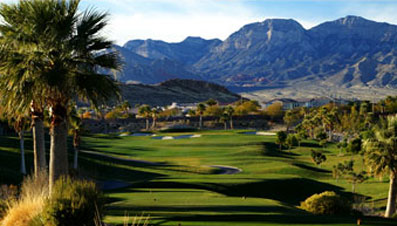 The Arroyo is the only golf course available to the public at the Red Rock Country Club, located close to Red Rock Canyon, golfers can expect amazing views while playing this golf course. This Arnold Palmer signature course has gone through recent upgrades on holes 16 through 18, if you haven''t played the Arroyo in a while, we recommend you do for a new experience.
The Red Rock Country Club Experience
Because the Arroyo is located at Red Rock Country Club you can expect a true country club experience. Red Rock Country Club was originally built as a private club featuring an 18 hole golf course. An additional 18 holes were added and the combined 36 holes were divided between two golf courses. The Arroyo features several holes that were part of the original Red Rock Country Club.
Playing the Arroyo Course at Red Rock Country Club
The Arroyo Golf Course is not overly long, only 6,800 yards, but it makes up for it on the par-3's. This is a classic golf course offering different sets of tees to accommodate any level of golfer. The fairways are generous but the greens are well protected by water and sand.
Visit our golf packages page for deals on Las Vegas golf.
Course Details
For more information or for current specials on Arroyo at Red Rock Country Club call us today at 1-800-841-6570 or CLICK HERE for a free golf vacation quote!
Arroyo at Red Rock Country Club

Arroyo at Red Rock Country Club

Arroyo at Red Rock Country Club

Arroyo at Red Rock Country Club

Arroyo at Red Rock Country Club

Arroyo at Red Rock Country Club

Arroyo at Red Rock Country Club

Arroyo at Red Rock Country Club

Arroyo at Red Rock Country Club
Scorecard (Holes 1 - 9)
| | | | | | | | | | | | | |
| --- | --- | --- | --- | --- | --- | --- | --- | --- | --- | --- | --- | --- |
| | Rating | Slope | 1 | 2 | 3 | 4 | 5 | 6 | 7 | 8 | 9 | In |
| Par | | | 5 | 4 | 3 | 4 | 5 | 4 | 3 | 4 | 4 | 36 |
| Gold | 71.9 | 124 | 580 | 420 | 186 | 432 | 520 | 416 | 215 | 396 | 368 | 3533 |
| Black | 69.7 | 121 | 532 | 397 | 171 | 403 | 490 | 386 | 186 | 360 | 341 | 3266 |
| Blue | 66.7 | 112 | 490 | 356 | 135 | 367 | 438 | 363 | 154 | 329 | 306 | 2938 |
| White | 70.2 | 117 | 451 | 319 | 115 | 343 | 375 | 338 | 143 | 298 | 278 | 2660 |
| Green | 66.9 | 112 | 422 | 293 | 105 | 311 | 346 | 300 | 115 | 280 | 258 | 2430 |
Scorecard (Holes 10 - 18)
| | | | | | | | | | | | | |
| --- | --- | --- | --- | --- | --- | --- | --- | --- | --- | --- | --- | --- |
| | Rating | Slope | 10 | 11 | 12 | 13 | 14 | 15 | 16 | 17 | 18 | Out |
| Par | | | 4 | 5 | 3 | 4 | 3 | 4 | 5 | 4 | 4 | 36 |
| Gold | 71.9 | 124 | 414 | 497 | 225 | 411 | 159 | 340 | 533 | 370 | 401 | 3350 |
| Black | 69.7 | 121 | 394 | 478 | 199 | 393 | 141 | 324 | 516 | 343 | 379 | 3167 |
| Blue | 66.7 | 112 | 381 | 468 | 193 | 368 | 124 | 292 | 475 | 312 | 353 | 2966 |
| White | 70.2 | 117 | 321 | 435 | 157 | 341 | 112 | 261 | 442 | 293 | 327 | 2689 |
| Green | 66.9 | 112 | 285 | 415 | 144 | 294 | 81 | 246 | 411 | 269 | 268 | 2413 |
From the Las Vegas Strip:
Take I-15 South toward Los Angeles.
Exit onto the 215 West Beltway toward Decatur Ave. (EXIT 34) .
Travel about 12 miles to Sahara Avenue.
Exit on Sahara (EXIT 21) and turn West (left).
The entrance to the club is a quarter mile ahead on the left.
Driving time is approximately 22 minutes.
Cab fare from Center Strip between $50-$60 one way