Angel Park Golf Club - Mountain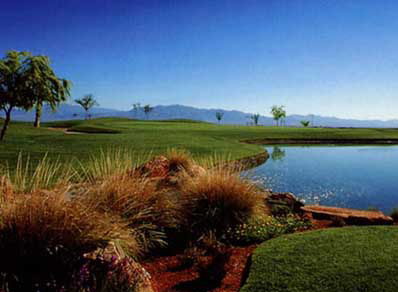 The Mountain Course at Angel Park Golf Club is one of two championship layouts designed by Arnold Palmer. The Mountain Course is the longest of the two golf courses measuring over 6,700 yards from the back tees.
There are a good variety of holes ranging from long par-3's to very reachable par-5's. The greens on Angel Park's Mountain Course are very fast and in several instances slope from the back of the green to the front. Knowing this, you will find it is better to be short of the hole than to end up putting from behind the hole. The greens will typically run between 9-10 on the stempmeter.
Higher handicap golfers will have a great time playing the Mountain Course at Angel Park because it is very player-friendly which is typical of Arnold Palmer designs. While at Angel Park Golf Club be sure to check out their lighted driving range and real grass putting course. The putting course is an 18-hole track that simulates conditions on the golf course. You will find water hazards, steep slopes and even bunkers.
Visit our golf packages page for deals on Las Vegas golf.
Course Details
For more information or for current specials on Angel Park Golf Club - Mountain call us today at 1-800-841-6570 or CLICK HERE for a free golf vacation quote!
Scorecard (Holes 1 - 9)
| | | | | | | | | | | | | |
| --- | --- | --- | --- | --- | --- | --- | --- | --- | --- | --- | --- | --- |
| | Rating | Slope | 1 | 2 | 3 | 4 | 5 | 6 | 7 | 8 | 9 | In |
| Par | | | 4 | 5 | 4 | 3 | 4 | 3 | 4 | 4 | 4 | 35 |
| Professional | 72 | 128 | 433 | 509 | 320 | 164 | 398 | 213 | 386 | 444 | 425 | 3292 |
| Championship | 70 | 117 | 398 | 483 | 306 | 136 | 369 | 189 | 358 | 410 | 387 | 3036 |
| Resort | 67 | 116 | 379 | 454 | 257 | 114 | 327 | 158 | 335 | 390 | 371 | 2785 |
Scorecard (Holes 10 - 18)
| | | | | | | | | | | | | |
| --- | --- | --- | --- | --- | --- | --- | --- | --- | --- | --- | --- | --- |
| | Rating | Slope | 10 | 11 | 12 | 13 | 14 | 15 | 16 | 17 | 18 | Out |
| Par | | | 4 | 3 | 4 | 5 | 4 | 3 | 4 | 5 | 4 | 36 |
| Professional | 72 | 128 | 428 | 143 | 397 | 520 | 407 | 183 | 368 | 557 | 427 | 3430 |
| Championship | 70 | 117 | 359 | 133 | 380 | 503 | 380 | 160 | 348 | 529 | 395 | 3187 |
| Resort | 67 | 116 | 338 | 103 | 350 | 458 | 337 | 148 | 329 | 508 | 362 | 2933 |