W

elcome to Las Vegas Golf Adventures
F

eatured Las Vegas Golf Packages
Starting from: $749
Looking for a way to save on golf in Vegas? Try this Las Vegas golf package featuring 3 rounds and 4 nights in Vegas. Golf at TPC Las Vegas, Rio Secco Golf Club, and Bears Best Golf Club.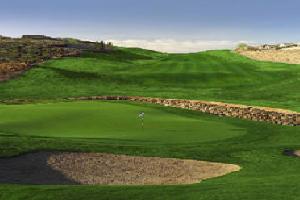 Starting from: $299
Experience golf in Las Vegas with this 2 night 2 round golf package featuring Revere Lexington, and Revere Concord.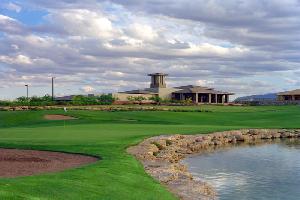 Starting from: $219
Check out this golf package offering 2 nights and 2 rounds of golf in Las Vegas. Golf these courses: TPC Las Vegas, and Rio Secco Golf Club.
N

ewest Vegas Golf Package Deals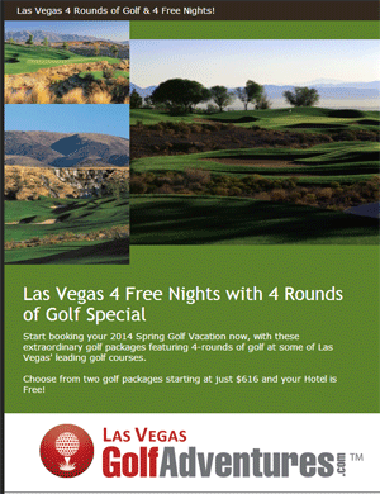 4 Nights Free With These Golf Packages
Get your hotel free when you book these golf packages!. This golf deal is available Feb 03, 2014 - May 31, 2014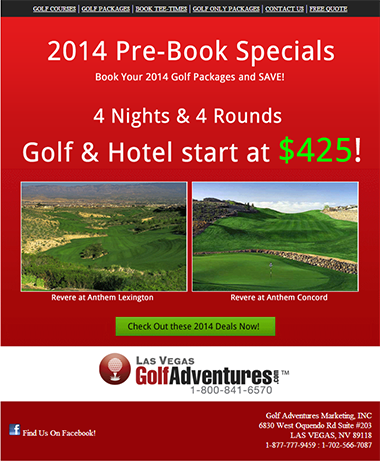 2014 Pre-Book Golf Deals
Pre-Book Your 2014 Las Vegas golf package and save with these golf deals that fit any budget! Packages start at just $425!. This golf deal is available Dec 10, 2013 - Jun 05, 2014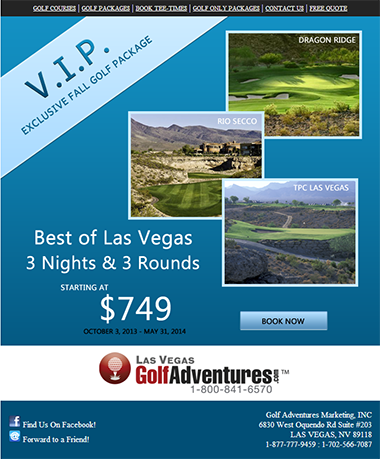 Exclusive Vegas VIP Fall Golf Specials
Book early and save! Enjoy 3 Nights and 3 Rounds in Las Vegas this Fall - prices start at just $749 per golfer!. This golf deal is available Oct 03, 2013 - May 31, 2014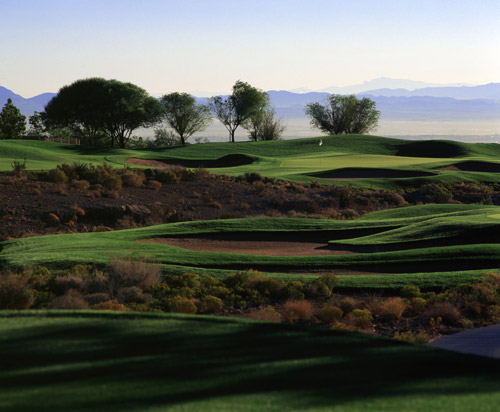 Based on our customer demand, we've updated our most popular Las Vegas golf package, now featuring both TPC Las Vegas and the Revere Lexington courses, this golf package offers every golfer visiting Las Vegas a chance to play two of the best golf courses in the area.
This Las Vegas golf package features your choice of accommodations ranging from Harrah's Hotel & Casino to the Bellagio and ARIA, Our Las Vegas golf packages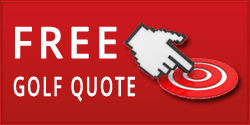 What's Inside!
» Special Interest
» More
» Other Destinations