W

elcome to Las Vegas Golf Adventures
We only represent the best golf courses in the Las Vegas area!
We represent top "on-strip" hotels - ARIA, Bellagio and more...
Guaranteed lowest rates on golf packages!
Save up to $60 per golfer - Book Online!
PGA Professionals on Staff!
No Hidden Fees!
Starting from: $699
Looking for a way to save on golf in Vegas? Try this Las Vegas golf package featuring 2 rounds and 3 nights in Vegas. Golf at Cascata, and Rio Secco Golf Club.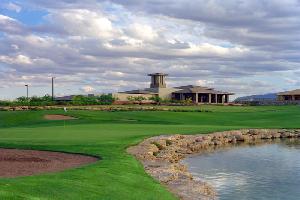 Starting from: $499
Experience golf in Las Vegas with this 3 night 3 round golf package featuring TPC Las Vegas, Revere Lexington, and Paiute Wolf.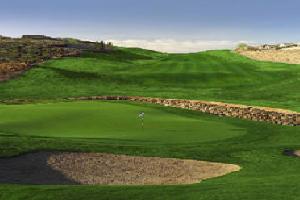 Starting from: $249
Check out this golf package offering 2 nights and 2 rounds of golf in Las Vegas. Golf these courses: Revere Concord, and Revere Lexington.
H

ot Las Vegas Golf Deals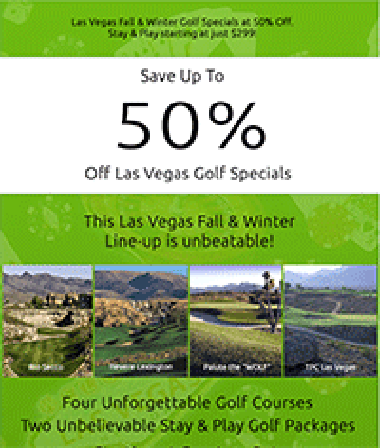 50% Off Fall & Winter Golf Specials
Four unforgettable golf courses, 2 unbelievable stay and play packages starting at just $299!. This golf deal is available Nov 17, 2014 - Mar 01, 2015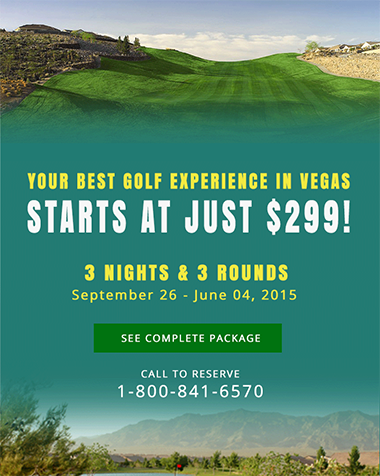 Best Value Experience Starting at $299!
Experience Las Vegas golf in this 3 night & 3 Round package starting at just $299!. This golf deal is available Sep 26, 2014 - Jun 04, 2015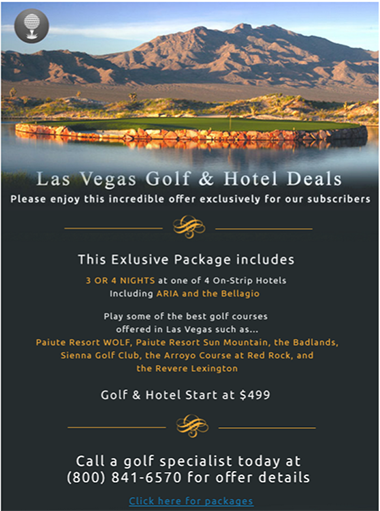 Fall Golf Packages
Exclusive! Book your Las Vegas Fall golf package and take advantage of low rates!. This golf deal is available Sep 02, 2014 - Nov 16, 2014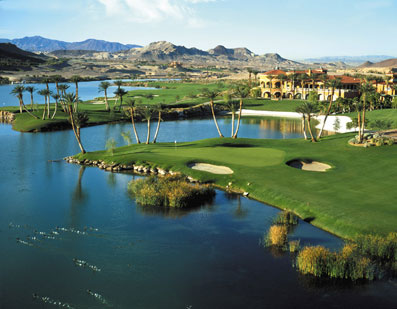 The Reflection Bay Golf Course re-opens on November 1, 2014 - if you've ever wanted to play one of the greatest courses in Vegas - this is it. Better hurry, Reflection Bay is a popular golf course by locals and travelers alike you can expect teetimes to be in high demand upon opening!
The Reflection Bay Golf Course is the first public resort course in Nevada designed by Jack Nicklaus and plays host to the Wendy's Three-Tour Challenge. The golf course features five holes played along the waters of Lake Las Vegas and offers a unique 199-yard, par 3 eighth hole with beaches,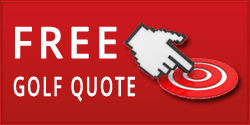 What's Inside!
» Special Interest
» More
» Other Destinations